The Stephenson County Fair could not happen without individuals who volunteer their time to pour into the lives of those in our community. Join in the fun this year – we have a job that is just right for you! If you have some time to spare and are wondering how to get involved in your community, we can find a spot that works for you!
Need Community Service hours? We love working with our teens to provide hours for Senior Projects, Honor Society requirements, or whatever your service hour needs are. A typical volunteer shift is four (4) hours long.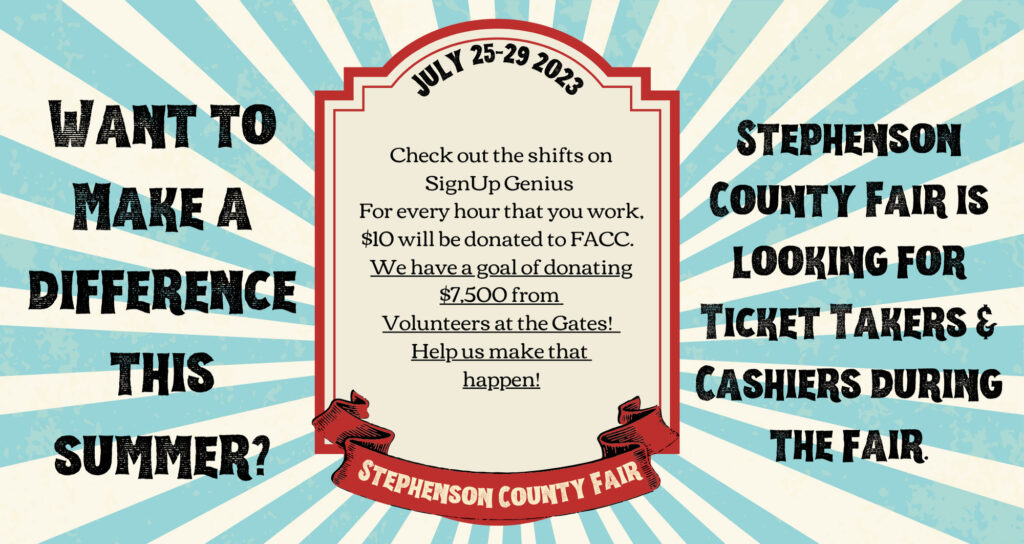 Benefits of Being A Volunteer
Team Building/Community Outreach Opportunity
Volunteer Appreciation Dinner held Wednesday before the fair begins
Volunteer Lounge Access
ITS FUN!!!
Ticket Takers & Cashiers
Gate Workers Needed!
Check out the opportunities on Sign Up Genius by clicking here!
How to Volunteer
Complete the Volunteer Waiver and send to the Volunteer Coordinators as indicated on the bottom of the form. Your information will then be forwarded to the committee(s) of indicated interest. Please read the Volunteer Rules & Regulations before signing up.
Individuals OVER 13 years old may volunteer without a parent, but still require a parent's signature on the waiver until 18 years old. Individuals UNDER 13 years old may volunteer with a parent OR as a member of the JFV (minimum age is 13 for a JFV). Minimum age for Courtesy Cart drivers is 21.
Volunteer Forms
Volunteer Waiver – available soon
Volunteer Rules & Regulations – available soon
Register Your Interest Here
Volunteer Opportunities
Competitive Exhibits
A multitude of fun competitive exhibits are offered throughout the duration of the fair. Competitors enter their baked goods, hand crafted artwork, and much more in hopes of bringing home the blue ribbon! Volunteers are needed to accept entries, set up exhibits, judge entries, monitor areas and help with interactive activities.
Competitive entry departments include:
Agriculture, Creative Arts, Culinary Arts, Cultural Arts, and Youth.
Data Entry – Assist the Competitive Entry Committee with winning entries and reporting.
Livestock Department
Do you love the sights and sounds of the barnyard? The Stephenson County Fair hosts many livestock shows. Both youth and adults compete for the ribbon showing their prized farm-raised animals. Volunteers are needed to accept entries, set and break down show rings and pens, record show results, and present awards.

Various livestock shows include: Beef Cattle, Dairy Cattle, Dairy Goats, Sheep, Market, Swine, Poultry, and Rabbits.
Other Fun Committees
Courtesy Cart Drivers – Drive a 6 seat golf car while transporting fair patrons from and to their cars. Must be 21 years of age.
Guest Services – Assist fair patrons with any questions they might have.
Vendor Check-in – Help with vendors as they arrive in the morning.
Gates – Sell & take tickets.
Volunteer Check-in – Help with volunteer wristband distribution and checking volunteers in at the main entrance.
Junior Fair Volunteer
Between the ages of 14 & 21? Want to join our Junior Fair Volunteer Team?
Check out this link for more information!