Below, you will see the fantastic variety of food you can enjoy this year!
By the Dozen Bakery
Cream Puffs Chocolate dipped cream puffs Eclairs Cookies Brownie Water/soda if allowed cinnamon rolls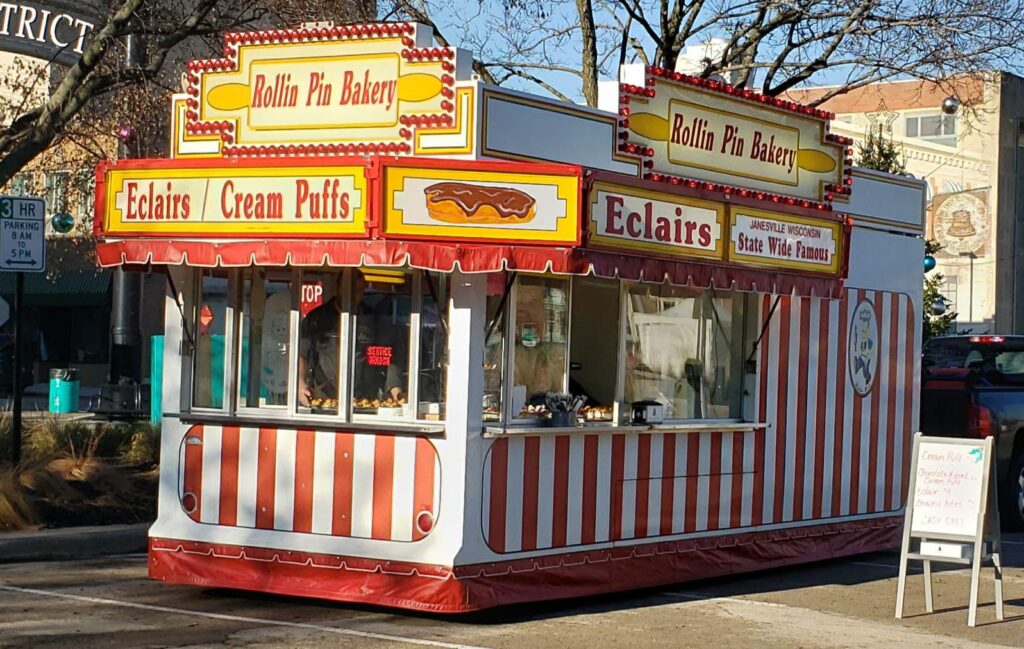 Junior's Place
Rib tips, Italian Beef, BBQ Chicken, Junior's Lemonade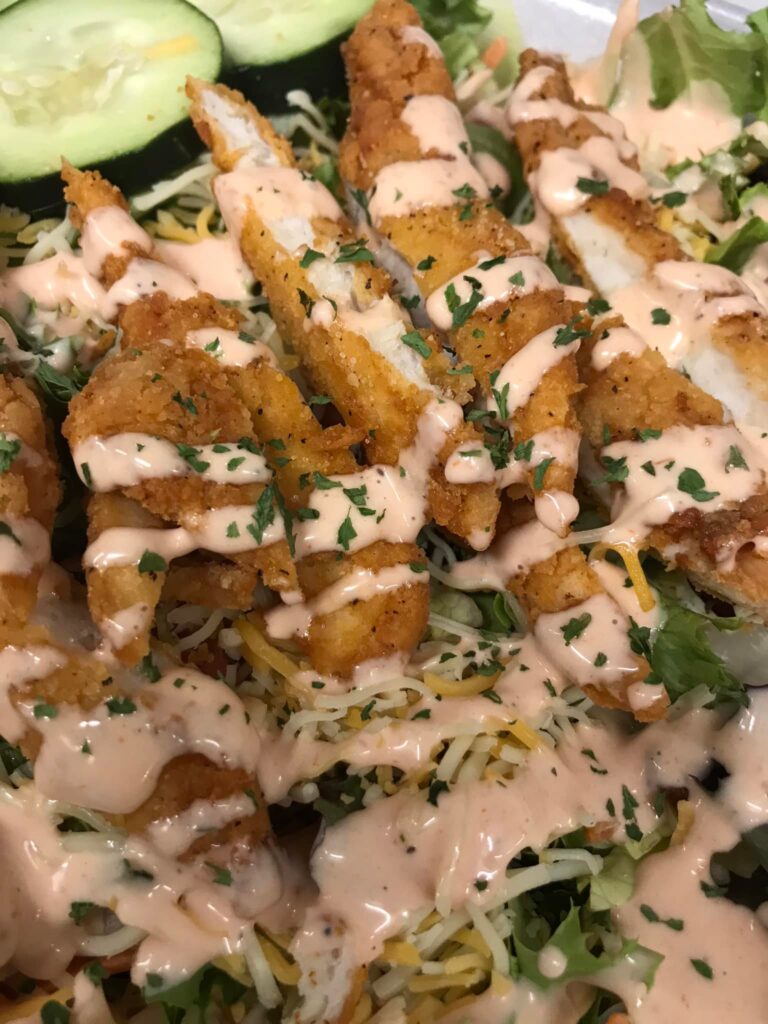 Angels Food Stand

Tacos, burritos, nachos, mexican corn, slushies, tamales, jarritos, mangoneadas, diablitos
Restaurant La Jarocha

Tacos Burritos Quesadillas Tortas Corn
Second Act Sweets

Granita (Italian ice).
Ice cream, Bubble Waffles, Concha Ice Cream Sandwiches.

312 Beef & Sausage
Cheese Curds and Italian Beef
The Best Lemonade
lavender lemonade ? strawberry lemonade ? peach lemonade ? blue raspberry lemonade ? orangeade ? original lemonade ?
Pizza on Earth

FRESHLY BAKED PIZZA BY THE SLICE. FRESHLY BAKED WHOLE PIZZA. LEMONADE SHAKE UPS. FOUNTAIN POP. CANNOLIS. STARBUCKS ICED FRAPPUCCINO.
Flip's Mini Donuts LLC

I sell Hot and Fresh Mini Donuts in a variety of flavors like Cinnamon Sugar, Powdered Sugar, Strawberry, Chocolate and Vanilla Frosting. For beverages I offer Fresh Lemonade, Bottled Water, and a very good specialty Coffee that is made in Sheboygan WI, Torke Brand. I sell that in either Hot or Cold Brew in a variety of flavors also.
Pink Heifer Saloon and Smokehouse
The first item is our very popular "Wagon Roll." A Wagon Roll is a deep-fried handmade eggroll stuffed with our 14 hour smoked USDA Prime brisket & premium Wisconsin cheddar. The Wagon Roll is served with our homemade Carolina Gold BBQ sauce (a tangy mustard base dipping sauce). The second item is a handheld "BBQ Crunch Wrap." Included in the BBQ Crunch Wrap is a wrapped flour tortilla in a tostado shell with the choice of one of our smoked meats (pork, chicken, or brisket), cheese and other fixings. The BBQ Crunch Wrap is served with our traditional BBQ sauce. The third item is our savory "Mac n' Cheese." Our Mac n' Cheese tastes great served plain (perfect for kids), and is even better when a customer tops it with one of our smoked meats (pork, chicken, or brisket.)
Scooters Concessions
Cotton candy. Caramel apples , caramelcorn , popcorn, lemonade shake ups , Pepsi products, bottled water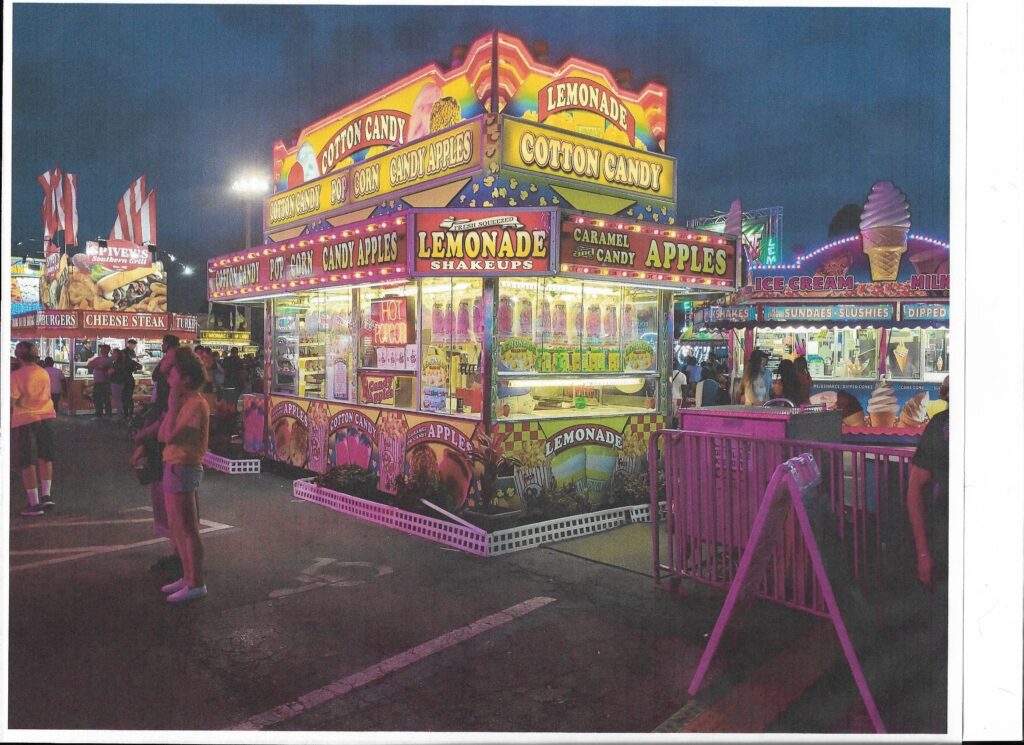 Capybara Café
Empanadas
Colombian Hot dogs
Salchipapa
Arepa
Pandebonos
Cheesy Fingers
Coffee Cold Brew
Pasión fruit juice
Lemonade
Whiskey Hotel Barbecue

Pulled Pork Chopped Beef Brisket Sandwich Polish Sausage Texas Hot Link Meat Candy (cured and smoked pork belly)
Kids N Kream

Soft serve ice cream, shakes, sundaes, floats, chocolate dipped cheesecake, chocolate dipped strawberries and strawberry cheesecake.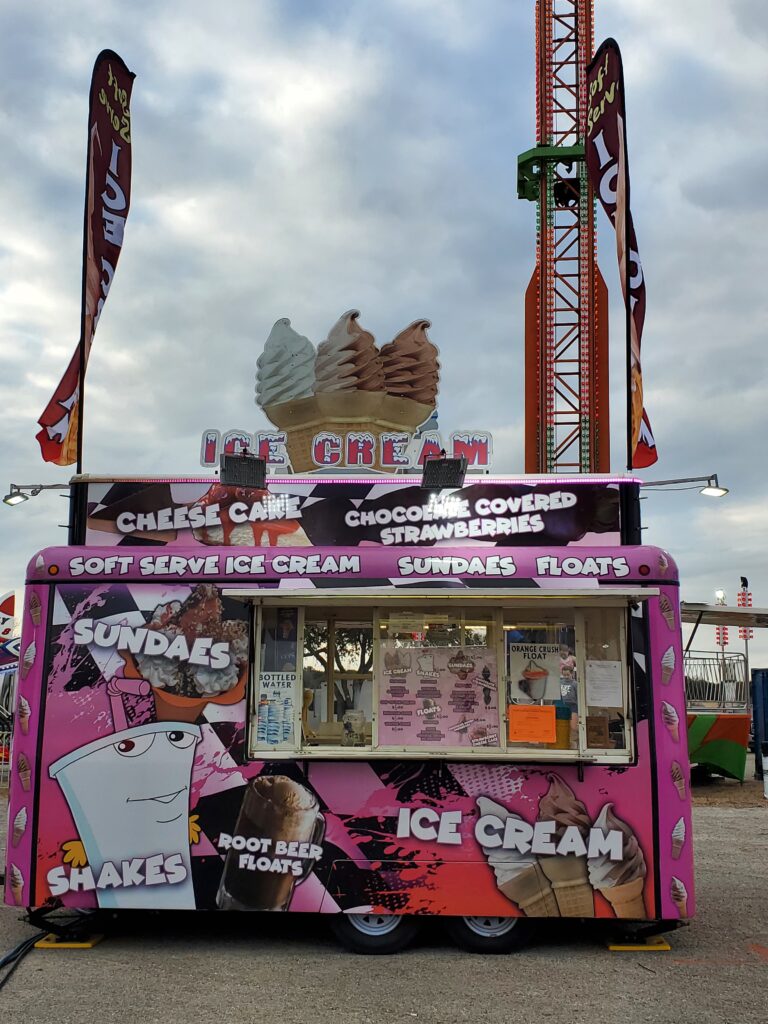 Parnell Foods, Inc
Elephant Ears, Funnel Cakes, Fried Oreos, Fresh Squeezed Lemonade Shake-Ups, Fresh Brewed Lipton Iced Tea, Soft Drinks, Bottled Water, Kool Aid.
New Unique Food Item: Turtle Beignets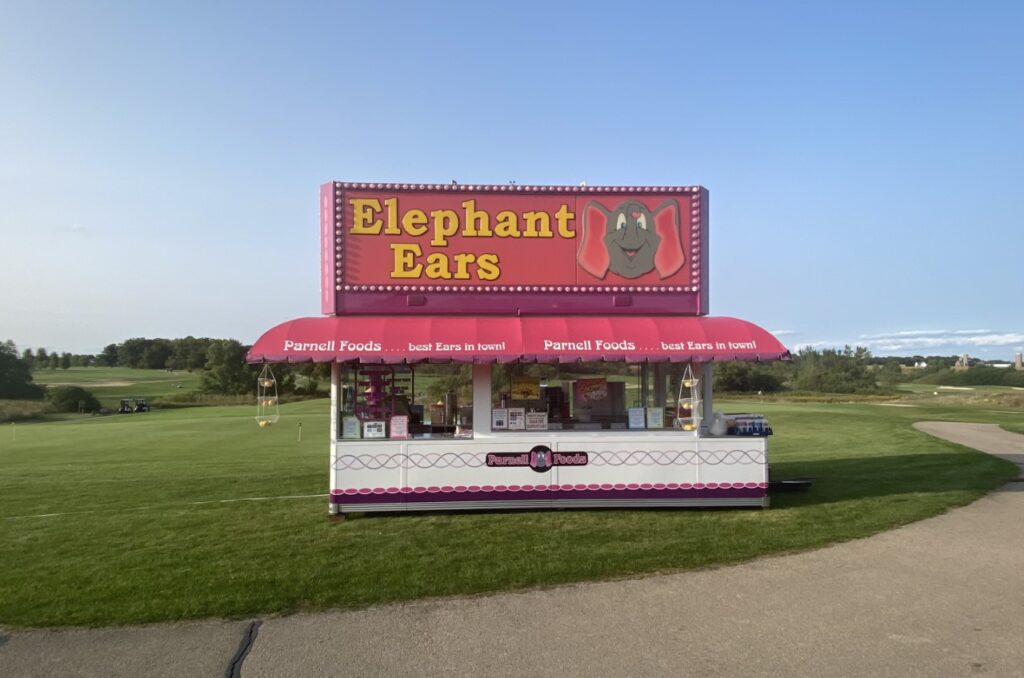 ADAM MCKINNEY FOOD SERVICES LLC
Jumbo corn dogs
lemon-shakeup
nachos
cherry limeade soft drinks
The Alamo
Dirty Soda with Roll Ice cream
Haacks Concessions
Pizza, Nachos, Pretzels, Soft Drinks, Lemon Shakeups, Funnel Cakes, Nachos
Baileyville Reformed Church
Lemonade Shake Ups
Concessions Unlimited
Corn dogs, Sausage, Burgers, Fries, Nachos, Hot dogs, Drinks
Custer's Last Stand

Pull pork Hamburger Hot Dogs FF Pork T Cheese Curds
Louisiana style snowball
Snowball Icecream
Hog House
Beef Corral
New Jerusalem Church
Lemon Shake-Ups
Nut Hut
Roasted pecans, almonds, cashews, bottle, soda, a water, dot ice cream